LNG - Fueling the Future
To continue Crowley's storied commitment to Puerto Rico, we are investing in a cleaner fuel source - liquefied natural gas - for our combination container/Roll-on Roll-Off (ConRo) ships that will sail between San Juan and Jacksonville, Fla.
Watch this video to learn more about our LNG investment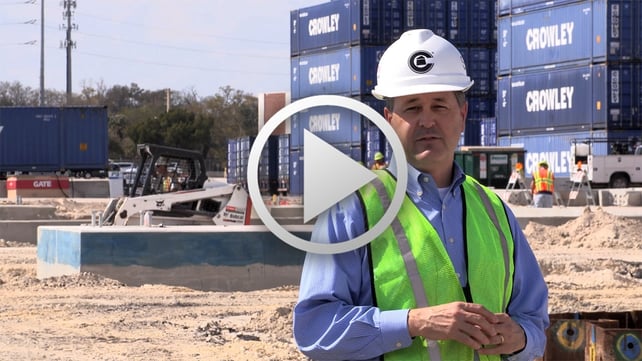 As part of our investment, we are equipping our new ConRo ships with an LNG fuel system and are building out terminal and facilities infrastructure to support them. LNG is a stable gas that is neither toxic nor corrosive and is lighter than air. It is the cleanest fossil fuel available, netting a 100-percent reduction in sulphur oxide (SOx) and particulate matter (PM), and a 92-percent reduction in nitrogen oxide (NOx). LNG also has the ability to significantly reduce carbon dioxide (CO2), a contributor to greenhouse gas emissions, as compared with conventional fossil fuels.
In Jacksonville, Fla., we are working with Eagle LNG Parters to build and operate a new shore-side LNG bunkering facility at our leased facility at the JAXPORT Talleyrand Marine Terminal. The bunkering site will serve as the fueling station for the LNG-powered ships.
To learn more about Eagle LNG, click the logo below: