A Next Generation Terminal Comes to Life in Puerto Rico
While we're busy building two LNG-powered ships, we're simultaneously investing in new technology and equipment for the Isla Grande Terminal in San Juan, Puerto Rico to efficiently handle their arrival.
The Commitment Class represents our long history of partnership with Puerto Rico, and it includes a major investment, of approximately $130 million, locally in infrastructure.
For the first time in more than five decades, three new, specialized gantry cranes will arrive to for use at Crowley's Isla Grande terminal for cargo loading and unloading operations. Additionally, a new 900-foot pier is being constructed to efficiently service the new LNG-powered ships carrying cargo to and from Jacksonville, Fla.
Click the image to learn more about the features of the new Isla Grande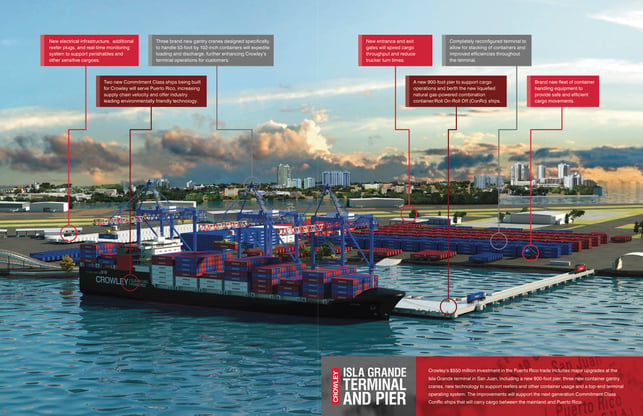 The cranes will each have a capacity of 65 long tons and measure approximately 65 meters tall, with an outreach of 40 meters. They will bring the best-possible container-handling technology – including operator-assist modes, laser profiling that targets containers for precision handling, memory settings and truck positioning system – to the Puerto Rico trade, all features that improve safety and maximize container loading and discharge efficiency.
"We went to great lengths to ensure we have cranes optimized to handle our specialized 53-foot container equipment, as well as standard container sizes," said Jose "Pache" Ayala, vice president of Puerto Rico services. "We are proud that these cranes will allow us to offer our customers the fastest discharge times on the island. Investing in best-available, new equipment is yet another demonstration of our total commitment to the people, infrastructure and future success of Puerto Rico."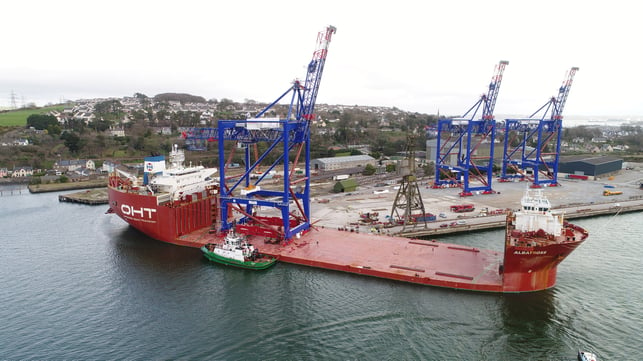 Other improvements include developing the new 900-foot-long, 114-foot-wide concrete pier and all associated dredging needed to accommodate Crowley's two new ships; expanding the terminal's capacity for handling refrigerated containers; paving 15 acres to accommodate container stacking; adding containers to its fleet and container handling equipment; installing a new electrical substation to provide power for the new gantry cranes; constructing a new seven-lane terminal exit gate for increased efficiency; and installing hardware for a new, state-of-the-art terminal operating software system.