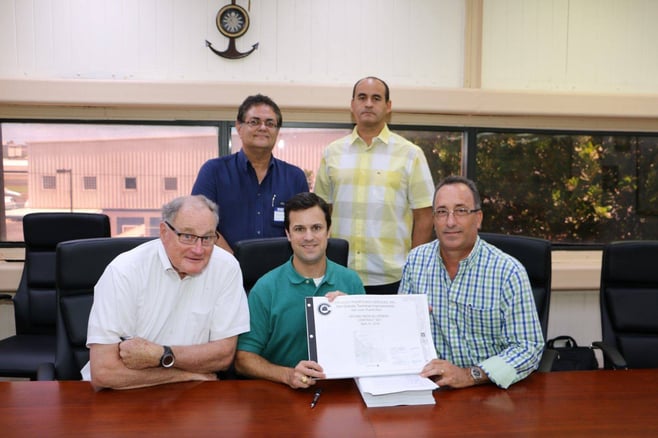 Crowley Puerto Rico Services announced that it is continuing to deliver on its commitment to Puerto Rico with the execution of an additional $21 million construction contract for improvements and upgrades at its Isla Grande port terminal in San Juan. It is the latest in a series of investments in support of the trade that will make Crowley's terminal and shipping operations the most modern and efficient in all of Puerto Rico.
The construction contract was awarded to Del Valle Group, S.P. of Toa Baja, Puerto Rico, and includes expanding the terminal's capacity for handling refrigerated containers; paving 15 acres to accommodate container stacking; installing a new electrical substation to provide power for three new ship-to-shore gantry cranes; constructing a new seven-lane terminal exit gate, and installing hardware required for a new, state-of-the-art terminal operating software system.
The contract is the third awarded that is associated with Crowley's investment in its Isla Grande terminal in preparation for the arrival next year of the first of Crowley's two new liquefied natural gas (LNG)-powered, Commitment Class ships now under construction in Pascagoula, Miss.
"We are very pleased to have this final contract awarded as part of the transformation of our terminal at Isla Grande," said Jose "Pache" Ayala, Crowley vice president, Puerto Rico. "The improvements being made to the terminal will provide customers with faster gate times and overall shorter turn times for truckers in and out of the terminal. The overall improved efficiency we will be able to achieve will further enhance the excellent service our customers already receive."
"We are equally pleased to choose a Puerto Rico-based construction company that will create private sector jobs on the island and keep the money in the local economy," he said. "This type of direct investment in Puerto Rico is something very few companies are able to deliver."
The terminal design has been carefully developed over the past year by Crowley with Harbor Consulting Engineers, Inc., of Seattle, Wash., as the lead design firm for the project, Wood Harbinger, Inc., of Bellevue, Wash., as electrical engineers and AG Environmental PSC, of San Juan as environmental engineers. Harbor is the Engineer of Record for the project, providing construction supervision services for its duration.
The latest contract follows a $48.5 million construction contract in 2015 for a new pier at the Isla Grande terminal. That investment by Crowley came after an agreement with the Puerto Rico Ports Authority (PRPA) for a 30-year lease extension for the Isla Grande property. That construction contract was awarded to L.P.C. & D. Inc., of Las Piedras, Puerto Rico, and includes the development of a new 900-foot-long by 114-foot-wide concrete pier and all associated dredging for the Commitment Class ships. Crowley's terminal expansion also includes the construction and installation of three new ship-to-shore container gantry cranes under a separate contract.
"This contract represents the last major contract to be awarded in our half-a-billion-dollar investment in our Puerto Rico Jones Act service," said John Hourihan, Crowley senior vice president and general manager, Puerto Rico. "With construction of both Commitment Class ships well underway, dredging at Isla Grande completed and pile driving operations associated with the pier ongoing, we are definitely beginning to see the results of our investment taking shape."
"Best of all, our private sector investment will directly create new construction jobs on the island," said Hourihan. "We believe in the market and the people of Puerto Rico, and our commitment has never been stronger. We are proud to be part of building for the future of Puerto Rico and our Jones Act service to the island."
Crowley has served the Puerto Rico market from the 75-acre Isla Grande terminal since 1954, longer than any other Jones Act carrier in the trade. The company, with over 250 Puerto Rico employees, is also the No. 1 ocean carrier between the island commonwealth and the U.S. mainland with more weekly sailings and more cargo carried annually than any other shipping line.