Crowley's new terminal operating system (TOS) at its Isla Grande port facility in San Juan, Puerto Rico, is allowing cargo to be delivered and dispatched from the terminal 50 percent faster than it had been previously, providing customers with increased supply chain velocity.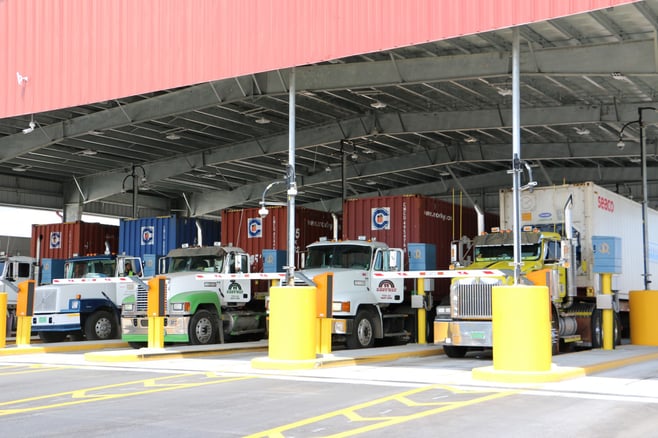 "Through the implementation of Tideworks Technology's terminal operating system, truckers can get on and off the terminal faster, so they can make more trips in a day, and customers get their cargo that much sooner," said Jose "Pache" Ayala, Crowley's vice president of Puerto Rico services.
"We are very pleased with the remarkable results the new TOS has delivered in such a short time," Ayala said. "Truck drivers have told us how well the new system has reduced the time they need to transport cargo in the terminal, and about how user-friendly this new system is. Likewise, customers really appreciate how fast their cargo reaches its destination."
The most significant change brought about by the TOS implementation thus far has been the way trucks are processed entering and leaving the terminal. Previously Crowley workers physically manned each of the outdoor truck lanes. Now, they work indoors, in a gate control center, and interact with the truck drivers via kiosks, which include communication handsets and cameras. Safety is improved because gate workers are no longer in the truck lanes; the operation has become paperless, and gate-lane transaction times have been reduced 50 percent.
Future TOS implementations in San Juan will improve efficiencies in the way Crowley stows its vessels, stages cargo on the terminal, and positions container handling equipment, among other things.
The new terminal management and planning software has several applications, including GateVision, an integrated gate system that accelerates gate operations and reduces truck processing (gate calls); and Mainsail Vanguard® and Spinnaker, which allow marine terminal operators to manage vessel, dock and yard planning in one workspace in order to gain complete visibility and control of every container on the terminal.
The new TOS system at Isla Grande Terminal follows Crowley's successful implementation of Tideworks' system at the company's Port Everglades (Fla.) Terminal in September 2016. The company also expects to implement the enhanced system at its facility at the Port of Jacksonville, Fla., (JAXPORT) by mid-year.
"We have truly enjoyed partnering with Crowley on this series of deployments, and we're pleased the second go-live went so smoothly," said Michael Schwank, president of Tideworks. "We're confident our TOS solutions will give Crowley the tools they need to operate seamlessly and efficiently, ultimately leading to improved productivity and enhanced customer service. We look forward to continuing our relationship with Crowley as we prepare for the next implementations."
The high-tech improvements coincide with the construction of two Commitment Class, combination container/Roll On-Roll Off (ConRo) ships that will be powered by liquefied natural gas (LNG) to serve the Jacksonville-Puerto Rico trade, and major upgrades at the Isla Grande Terminal, including a new 900-foot pier, a new seven-lane gate system, new container and refrigerated cargo capabilities, and three new, specialized gantry cranes as well as a new electrical substation to power the cranes.
Crowley has served the Puerto Rico market from the 85-acre Isla Grande Terminal since 1954, longer than any other Jones Act carrier in the trade. The company, with more than 250 Puerto Rico employees, offers more weekly sailings in the market than any other shipping line.