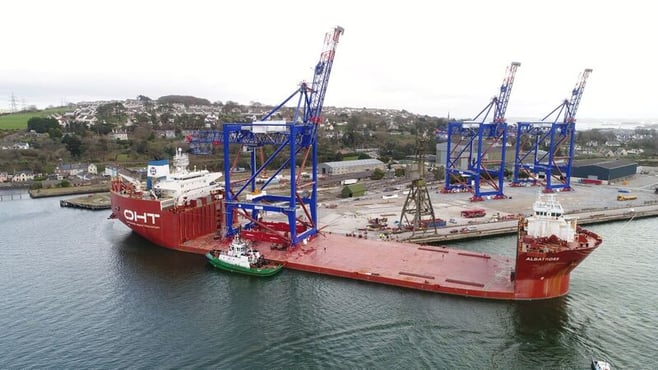 Three new, ship-to-shore container cranes have been constructed in Ireland and are scheduled for delivery to Crowley Puerto Rico Services' Isla Grande Terminal in San Juan later this month. The electric-powered cranes will be used to load and discharge containerized cargo being carried aboard Crowley's two new liquefied natural gas (LNG)-powered, Commitment Class ConRo ships, one of which is expected to be in service in the second half of 2017 and the other in the first half of 2018.
"With these state-of-the-art cranes now erected, we are taking another step toward the transformation of our terminal into the most modern and efficient port facility on the island. We eagerly await their arrival here," said John Hourihan Jr., Crowley's senior vice president and general manager, Puerto Rico services. "Our new terminal infrastructure will help us enhance Puerto Rico as a shipping and logistics hub for the Caribbean Basin and beyond, and open up many new opportunities for our customers."
These are the first new, specialized gantry cranes to be received for operation in San Juan Harbor in five decades. Crowley is investing more than $130 million of the $550 million total project cost in infrastructure improvements to its Isla Grande terminal, including a new pier, cranes, container staging areas, reefer plugs, truck gates, container handling equipment and more.
The cranes will each have a capacity of 65 long tons and measure approximately 65 meters tall, with an outreach of 40 meters. They will bring the best-possible container-handling technology – including operator-assist modes, laser profiling that targets containers for precision handling, memory settings and truck positioning system – to the Puerto Rico trade, all features that improve safety and maximize container loading and discharge efficiency.
"We went to great lengths to ensure we have cranes optimized to handle our specialized 53-foot container equipment, as well as standard container sizes," said Jose "Pache" Ayala, vice president of Puerto Rico services. "We are proud that these cranes will allow us to offer our customers the fastest discharge times on the island. Investing in best-available, new equipment is yet another demonstration of our total commitment to the people, infrastructure and future success of Puerto Rico."
The new cranes were built by Liebherr Container Cranes, part of the Liebherr Group, in Ireland. A video available here shows the cranes being loaded for transport to Puerto Rico.
"We are proud to work with Crowley to provide these modern container cranes for their Puerto Rico terminal," said Gerry Bunyan, sales and marketing manager with Liebherr Container Cranes. "This is our first order to the island of Puerto Rico and we are happy to play a part in helping to improve the shipping services to the people on the island. The cranes were designed and manufactured in our Irish facility, where we have been making container cranes since the 1960s, and incorporate the latest technology including semi-automatic mode, which maximizes the efficiency of container handling. The cranes will provide a high level of productivity and efficiency to the Isla Grande terminal."
Crowley has served the Puerto Rico market from the 85-acre Isla Grande Terminal since 1954, longer than any other Jones Act carrier in the trade. The company, with more than 250 Puerto Rico employees, is also the No. 1 ocean carrier between the island commonwealth and the U.S. mainland with more weekly sailings and more cargo carried annually than any other shipping line.