Over the weekend, the Jacksonville Port Authority (JAXPORT) moved two large container cranes by barge from its Blount Island Marine Terminal on Jacksonville's Northside to Crowley's Talleyrand Marine Terminal near downtown. As shown in this Department of Transportation video, the cranes were safely towed along the the St. Johns River and under the Dames Point Bridge during low tide.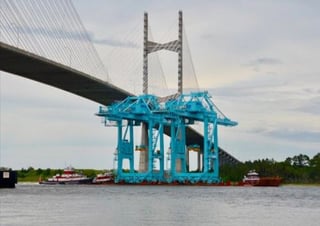 Now that the shipping cranes have arrived at Crowley's
terminal, they are being prepped for service to the company's
two new liquefied natural gas (LNG)-powered ConRo ships, designed especially for service between the United States and Puerto Rico. Read more about these revolutionary new vessels here.

Photo credit: JAXPORT